MERIDIANI USA
Meridiani stands out in the furniture scene thanks to its contemporary and at the same time versatile collections, which interpret home as a dress to wear.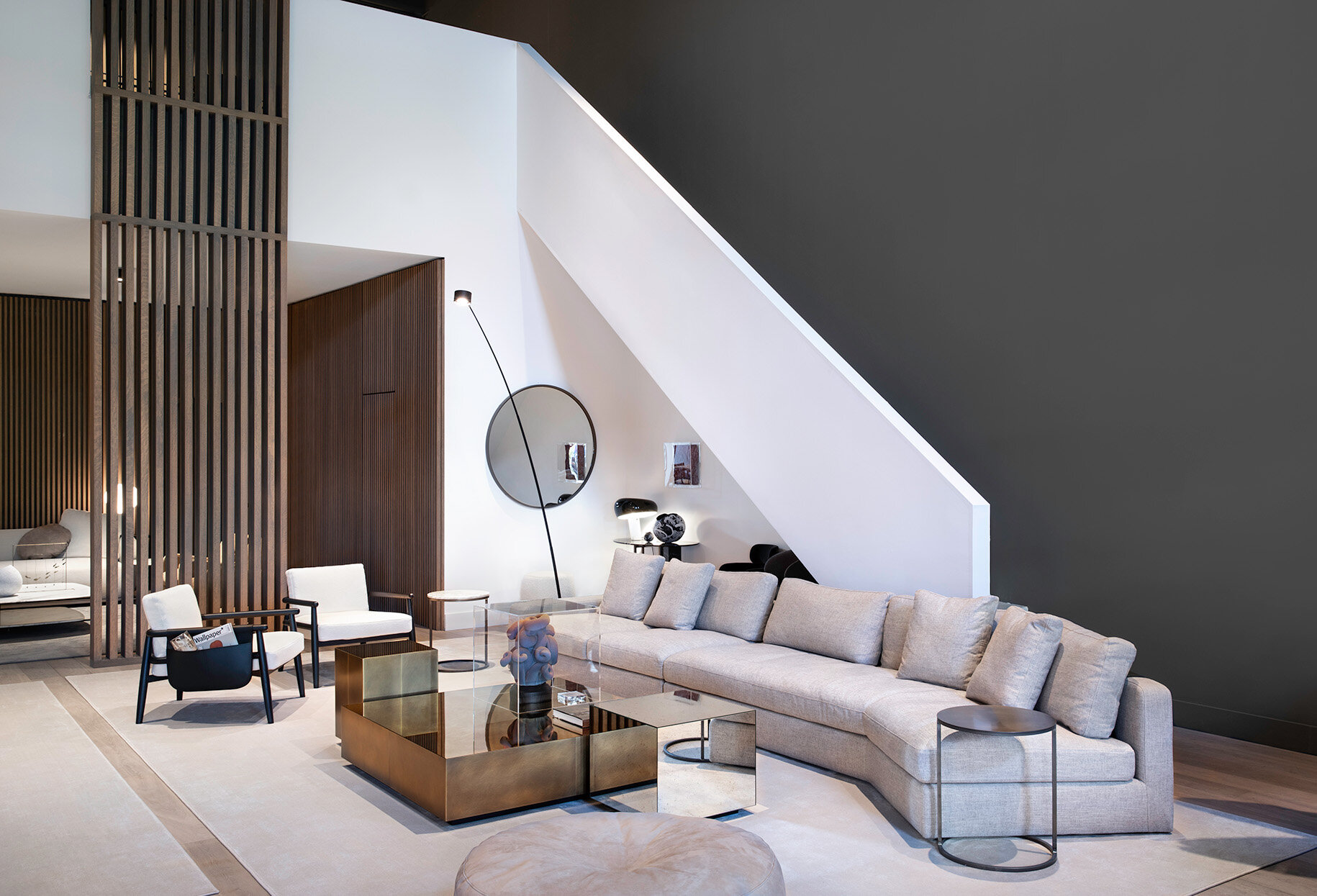 Get inspired by our selected products:
The best project in the US:
One Thousand Museum
A new, exclusive context houses the refined Meridiani collections: the Italian brand has furnished a large apartment on the 38th floor at the prestigious "One Thousand Museum", a masterpiece of vertical architecture in Miami, signed by the architect Zaha Hadid, and recently completed by Studio Zaha Hadid Architects.
A spectacular apartment of about 4.500 square feet, where the brand collections are both indoor as well as on the spacious terraces; the neat lines and warm textures of the Meridiani collections perfectly harmonize with the curved architectural shape of the building. The interior design bears a prestigious signature, that of Hernan Arriaga, a protagonist on the international scene with projects worldwide from the United States to the Middle East and Europe.
MERIDIANI @ Salone del Mobile. Milano 2023
A contemporary scenario in dark tones, symbols of elegance and refinement, characterized the Meridiani booth at the 2023 Milan Design Week.
Smooth volumes that seduce through the imagery they evoke, reserved and welcoming spaces for an intimist concept. The architecture of the stand refers once again to the fluidity of spaces and dwelling paths and the palette is that of browns and chocolates, with tobacco and blue tones; the steel and the dark wood floor with touches of burgundy and nuances of green suggest a sophisticated contemporaneity. The interior design bears as always the signature of Andrea Parisio and the different settings for living, dining and sleeping areas suggest a complete living experience coordinated in details.
The main focus is on the latest products, contemporary collections inspired by an elegant and intimate lifestyle, discreet because essentially timeless. Oscar and Max are absolute protagonists of the living area: Oscar is a collection with sofa, relax chaise and armchair which expresses elegance through smooth shapes and perfectly contemporary details; Max is a system of modular sofas which allows several configurations: the modular elements - either linear or asymmetrical - are characterized by neat, pure geometries.
Among the other new collections, the Nora armchair: featured by generous proportions and upholstered armrests, Nora shows a high level of customization and clearly tells the tailoring approach of the brand, as it is possible to tailor it according to different requirements, for example with solid wooden legs or else totally covered, or again in a more playful version in a combination of fabrics. The Baco poufs immediately become a must for the living area: a system of poufs with different shapes to be freely combined, small and versatile pieces of furniture to create different configurations thanks to magnets; pieces designed to reduce the distance and create new spaces.

DISCOVER NEW COLLECTION
Visit our Miami Store:
Book an appointment:
Wynwood Arts District
446 Nw 28 Street
FL 33127 Miami, Florida
MON - FRI 10AM-5PM. SATURDAY BY APPOINTMENT ONLY. SUNDAY CLOSED.